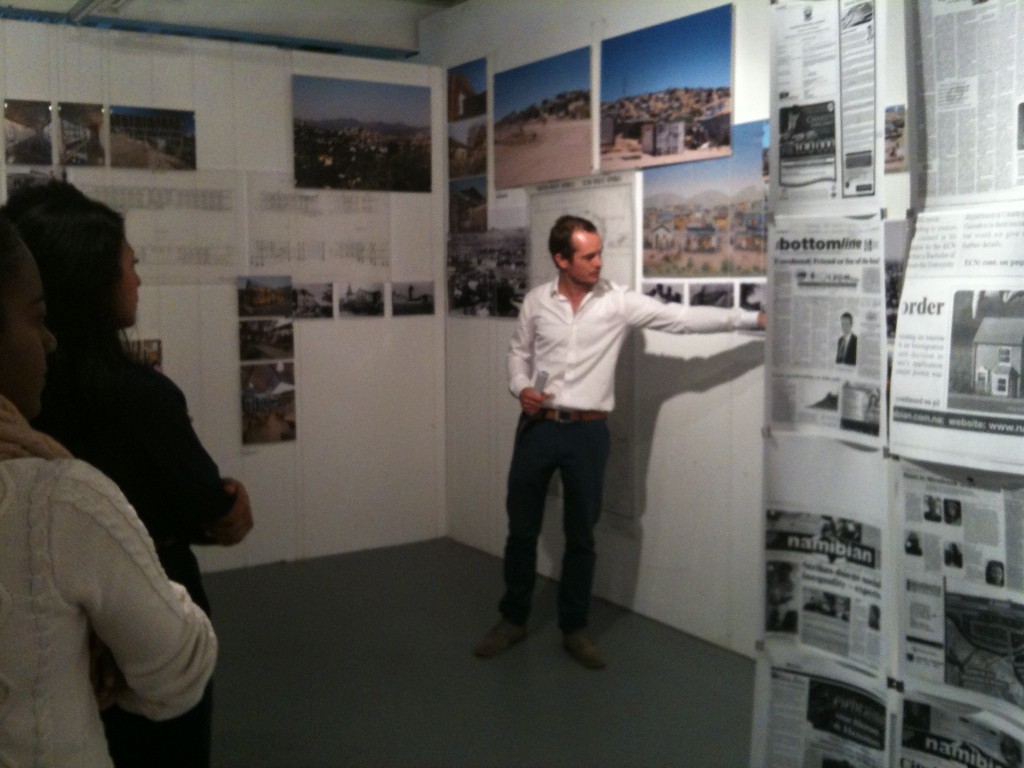 The British Council and Expanded Territories hosted a series of talks and debates entitled Design Diplomacy in parallel with the International Architecture and Design Showcase in Ambika P3 during June and July 2012. These included:
Designing for Diplomats, 2 July 2012
Three leading architects and a radical young designer discussed the diplomacy of designing for the British Government overseas and for refugees. Speakers included Terry Farrell, Tony Fretton, Steve Quinlan and Natasha Reid. The event was chaired by Peter Murray, NLA.
Namibia, South Africa: Post-Colonial Legacies, 6 July 2012
Academics, architects and writers discussed the impact of design (urban, architectural, industrial, fashion & graphic) on life in cities in Namibia and South Africa since democracy. Questions addressed included the overcoming of colonial spatial legacies, the re-colonisation of cities by global economic forces, the simultaneity of different experiences of space and time in South African and Namibian cities and the impact of mega events on host cities. Panelists included Lesley Lokko, author; Phillip Luhl, University of Namibia; Dr. Diana Mitlin, University of Manchester; Dr. Marion Wallace, British Library; Zahira Asmal, Designing _South Africa; Yvette Gresle, Ph.D candidate, UCL and Guillermo Delgado, Ph.D candidate, UCT. The event was chaired by Dr Lindsay Bremner of the University of Westminster.
Designing Relations: East/West Dialogues, 10 July 2012
The event addressed issues of how technology provides opportunities to engage in formulating new forms of dialogue between people and places. Questions included: In the age of distributed knowledge, where ideas and innovation spread at rapid speeds, who are the players who mediate these new forms of dialogue? Given that strong educational programmes pushing new ways of thinking about design are developing outside of conventional disciplinary categories, career typologies are more diverse than ever. What is the future of educational and cultural institutions in this new age of decentralised knowledge. What role does curation, design and diplomatic engagement play in these new open dialogues? The panel included  Milos Spasic, author of Serbian exhibit in the International Architecture and Design Showcase; Stela Stojic, Belgrade City Museum; Shane Walter, co-founder and creative director of onedotzero; Edward Wainwright, independent producer and Evelyn Rugg, Director of International Policy, University of Westminster. The event was  chaired by Filip Visnjic of the University of Westminster.
Addressing the Games, 12 July 2012
A panel of academics, architects and students presented dialogues and designs for the Olympic Games and discussed its implications for London. Panelists included  Dr. Albena Yaneva, Manchester University; George Paraskevopoulos, Greater London Authority; Gabby Shawcross, Studio of Cinematic Architecture; Anthony Boulanger, AY Architects + University of Westminster and Chloe Leen, Theodore Molloy, Steve Wilki of University of Westminster. The event was chaired by Prof. Adam Sharr of Newcastle University and the Architectural Research Quarterly.
With thanks to Edward Wainwright, producer of the events, the British Council, the University of Westminster and all the participants.