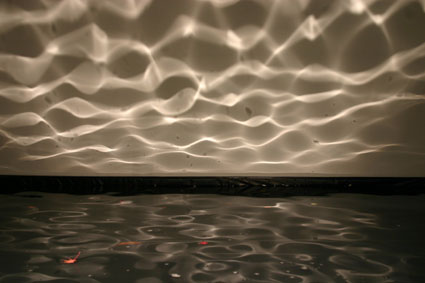 Reading and Exhibiting Nature – International Conference
Date: 7-9 February 2014
University of Westminster, London
In January and February 2014 Ambika P3, the flagship exhibition space at the University of Westminster, will present OUT OF ICE by visual artist Elizabeth Ogilvie. This new commission will involve environments created with ice and ice melt, constructions, films of ice systems, film of scientific expedition from Antarctica, and poetic film, much of it created through collaborations with Inuit in Northern Greenland, and reflecting on their deep and sustaining relationships with ice. The exhibition will portray the psychological, physical and poetic dimensions of ice and water and draw attention to ice processes. It will describe the presence of ice in the world from a human perspective in which the observational traditions of fieldwork will be combined with the artist's trademark visual splendour.
In concert with the exhibition, the University of Westminster is convening 'Reading and Exhibiting Nature', a three-day conference examining how nature is being understood in contemporary cultural and artistic production. With a focus both in and beyond the polar regions, we will explore how artists and scientists are apprehending and representing natural phenomena, engaging with emerging non-human materialities and translating environmental data into aesthetic experience. The conference seeks to explore the shifting definitions of nature and how nature, including plants, animals, land, water/ice and weather inserts itself into human affairs and is represented culturally.
The 'Reading and Exhibiting Nature' conference is planned in association with project's host institution, the University of Westminster and co-hosted by Universities of Aberdeen and Edinburgh and Anchorage Museum, Alaska. The organising committee includes Elizabeth Ogilvie, visual artist, Edinburgh; Mark Eischeid landscape architect/artist, Edinburgh; artist and curator Michael Maziere, University of Westminster; Lindsey Bremner, Director of Architectural Research, University of Westminster; Katharine Heron, Head of Department of Architecture, University of Westminster; Jo Vergunst, anthropologist, Aberdeen and Julie Decker, curator, author, artist, Anchorage Museum. Scholars and practitioners from any relevant discipline are invited to interrogate both the fine-grained nuances and broad contours of reading and exhibiting nature.
Four half-day sessions will explore the following themes:
Exhibiting Nature
The natural world and its exploitation are a key concern for many involved in contemporary art. How can current trends in media and environmental art contribute to moving us beyond the conception of nature as resource, towards nature as situated materiality, a complex system of energy, materials and information flows, of which people are only a part?
Reading Nature
Western philosophies have often portrayed nature as passive externality, subject to human exploitation. There is an increasing need to articulate alternative emotional, perceptual and cultural interactions with nature. What kinds of diverse strategiesexist to let nature speak? Can new aesthetic and exhibition practices provide a vehicle to reveal nature differently?
Communicating Science
Scientific enquiry translates nature into data using procedures, protocols, instruments and techniques that are obscure and mysterious to those not initiated into its world. Can the humanities and creative arts provide alternative representations of scientific data that improve public understanding of natural processes? What new partnerships are being formed, and what power relations do they involve?
Changing Nature
How is environmental change conveyed by and through the media and how is it being interpreted by artists through data gathering and visualisation?
Keynote Address by Professor Tim Ingold, Chair of Social Anthropology at the University of Aberdeen
Confirmed participants will include:
Allison Warden, performance artist, Anchorage; David Dernie, University of Westminster, London; Jo Vergunst, University of Aberdeen; Joan Navlyuk Kane, poet, Alaska; Jon Goodbun, University of Westminster, London; Julie Decker, author and Chief Curator Anchorage Museum, Alaska; Katharine Heron, University of Westminster, London; Karo Thomson Fleischer, Inuit explored and lecturer, Ilulissat, Northern Greenland; Layla Curtis visual artist, London; Liam Young Architect, AA, London; Lindsay Bremner, University of Westminster, London; Marek Ranis, visual artist, University of North Carolina at Charlotte; Mariele Neudecker, visual artist, Bristol; Mark Eischeid, University of Edinburgh; Martin Siegert, University of Bristol; Matthew Dalziel Louise Scullion, visual artists; Suna Christensen, anthropologist, Metropole University, Copenhagen; Tom Corby, University of Westminster, London; Tony Payne University of Bristol
DEADLINE FOR ABSTRACTS
We welcome proposals for papers of a maximum of 20 minutes or 3000 words addressing any one of the above. Send abstracts of no more than 250 words. They must include the presenter's name, affiliation, email and postal address, together with the title of the paper and a 150-word biographical note on the presenter. Abstracts should be sent to Helen Cohen at exhibiting@westminster.ac.uk and arrive no later than Monday 11 November 2013.
PROGRAMME AND REGISTRATION
This conference will take place from 4.00pm on Friday 7 February to Sunday 9 February 2014. Full conference: Standard rate £200. One day rate £110. Full conference: Student rate £90. One day rate £65. This covers all conference documentation, refreshments, lunch, receptions and administration costs. Registration will open in December 2013.