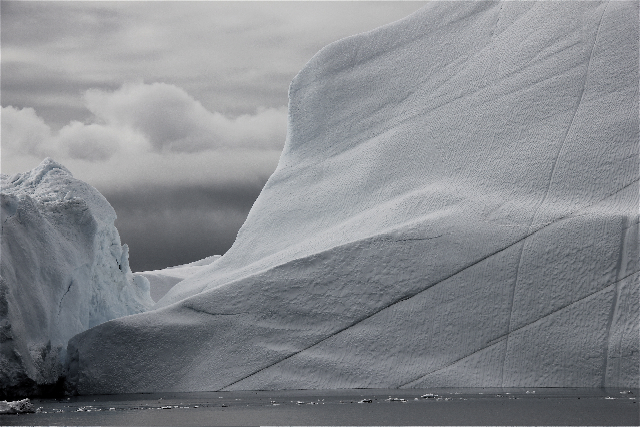 Ambika P3 presents
OUT OF ICE
Elizabeth Ogilvie in association with British Antarctic Survey
17 January – 9 February 2014
Tue – Fri, 11am – 7pm
Sat – Sun, 12pm – 6pm
Private View:  Thursday 16 January, 18.30 – 20.30
OUT OF ICE by Scottish artist Elizabeth Ogilvie is a dramatic new exhibition comprising environments created with ice and ice melt, constructions, films and projections of ice systems. It is an exploration of the poetics of ice with much of it created through collaborations with Inuit in Northern Greenland, reflecting on their deep and sustaining relationship with ice. It also presents film from the scientific expedition from Antarctica, the Lake Ellsworth Consortium led by Martin Siegert and supported by the British Antarctic Survey.
The use and knowledge of the ice-covered sea remains the pillar of the Inuit's identity and resilience and their most prized intellectual treasure. Immersive and contemplative, the exhibition seeks to portray the psychological, physical and poetic dimensions of ice and water whilst drawing attention to ice processes. It suggests that absence of ice poses a real danger to our planet. Describing the presence of ice in the world from a human perspective, it reveals the observational traditions of fieldwork, combined with visual splendour.
Described as one of the most significant artists of her generation in Scotland, Elizabeth Ogilvie has a strong track record in realising large scale projects which challenge conventions. Her work is a fusion of art, architecture and science, with water and ice as the main focus for her practice.
International Conference at the University of Westminster
7-9 February 2014
To coincide with Out of Ice, the Centre for Research and Education in Arts and Media (CREAM) of the University of Westminster is convening 'Reading and Exhibiting Nature', a three-day conference examining how nature is being understood in contemporary cultural and artistic production. The programme of the conference is available here: Reading and Exhibiting Nature Conference