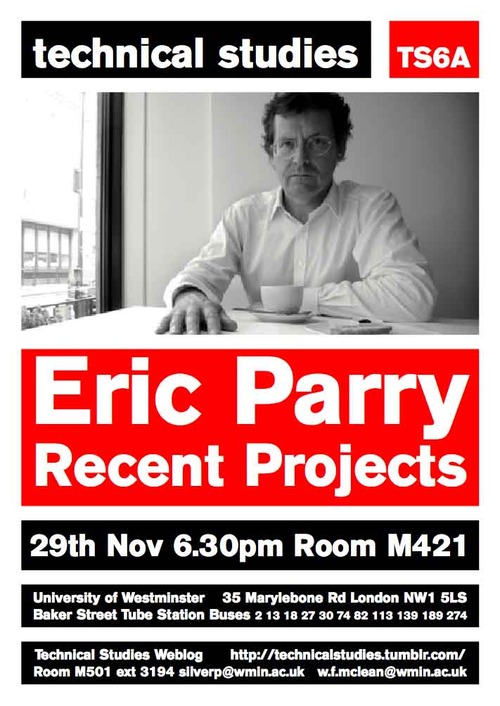 Eric Parry – Eric Parry Architects
Context and Materiality
Thursday 29
th
 November, 6.30pm, Room M421
Architecture and the Built Environment
University of Westminster
Eric Parry studied at the University of Newcastle, The Royal College of Art and later the Architectural Association. He founded his practice, Eric Parry Architects Ltd in 1983, and the London based firm also opened an office in Kuala Lumpur, Malaysia. Principle buildings and architectural projects Parry has worked on include Fortress Court, which provides student accommodation at Pembroke College, Cambridge and the office development at 30 Finsbury Square, EC2, which received a RIBA award.
Eric Parry was President of the Architectural Association in 2005 and remains an honorary Librarian of the Association. He served on the Advisory Panel of the Arts Council of England Visual Arts from 1991 – 2003. Parry has lectured at Cambridge, the Graduate School of Design, Harvard University, the University of Houston and at the Tokyo Institute of Technology.
Eric Parry Architects are responsible for several highly prestigious commercial projects in the City and West End including 5 Aldermanbury Square, 60 Threadneedle Street, 23 Savile Row and 50 New Bond Street. We are also responsible for cultural projects involving sensitive historic buildings including a significant new wing for the Holburne Museum of Art in Bath, and have completed the restoration and renewal project for the historic St Martin-in-the-Fields Church in Trafalgar Square. Eric Parry Architects are currently completing the St James's Gateway project in Piccadilly featuring a unique Faience Cornice by sculptor Richard Deacon.
For details contact: Will McLean/Pete Silver