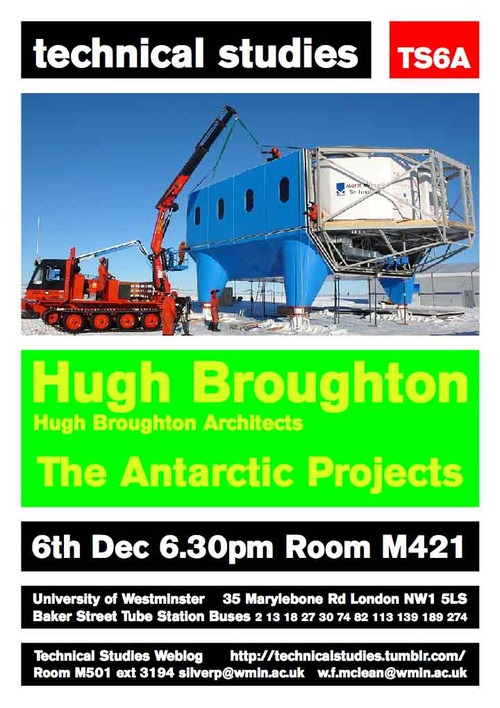 TECHNICAL STUDIES 2012-2013
OPEN LECTURE #8
Hugh Broughton – Hugh Broughton Architects
Thursday 6th December, 6.30pm, Room M421
School of Architecture and the Built Environment
University of Westminster
Working with AECOM, Hugh Broughton Architects won the competition to design the new Halley VI Research Station in Antarctica for the British Antarctic Survey. This extraordinary project has required the practice to investigate a wide range of technical and programmatic issues in the design of buildings for remote locations subject to extreme environmental conditions. Whilst Hugh Broughton Architects (HBA) continue to develop homegrown projects such as their award winning Maidstone Museum, the success of Halley VI project has meant that designing for extreme environments is an increasingly important part of HBA's work.
Broughton's international competition winning design for the self-sufficient scientific research base of Halley VI is now operational on a floating ice shelf 900 miles from South Pole. Hydraulically elevated ski based modules respond to annually rising snow levels and the need to relocate the base if the site calves off as an iceberg. A special central module provides a dramatic open plan social area at the heart of the station. The project demonstrates Broughton's ability to create sustainable design with exceptional technical criteria.
Hugh Broughton Architects have been shortlisted for the Building Design (BD) Architect of the Year Award 2012 in the International Breakthrough Category.
Will McLean / Pete Silver