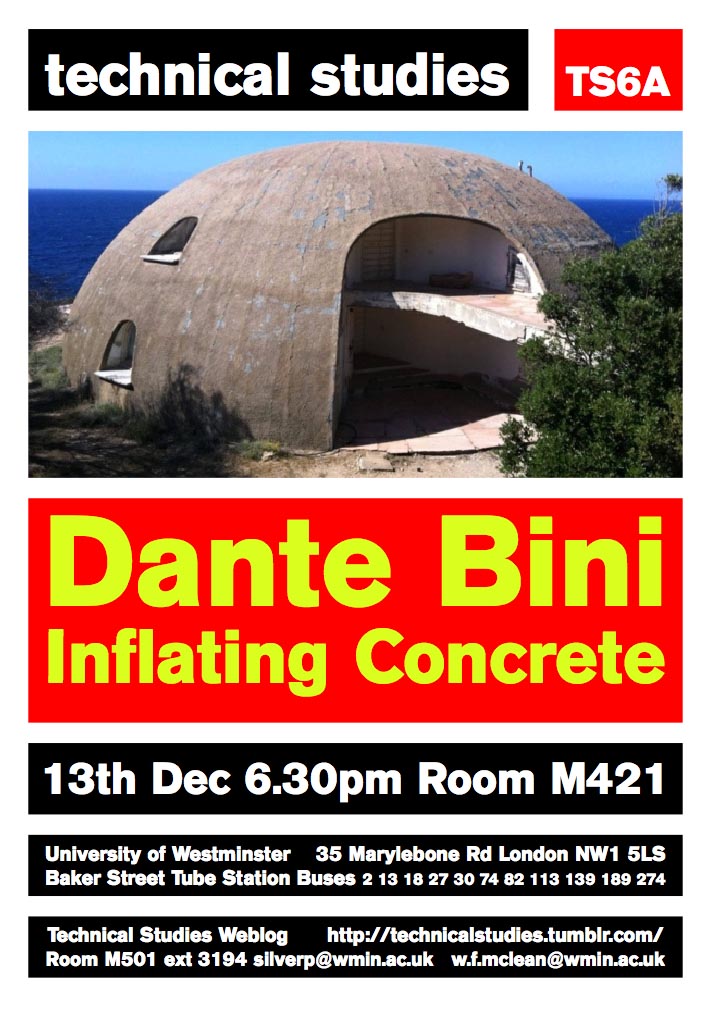 We hope to see you all* at the Christmas Lecture next week; a rare London visit from legendary architect/engineer Dante Bini accompanied by his son Nic.
Mince Pies and Drinks served
TECHNICAL STUDIES 2012-2013
OPEN LECTURE #9
Dr Dante Bini & Nic Bini
The Binishell Dome and Construction Automation
Thursday 13
th
 December, 6.30pm, Room M421
The iconoclastic Italian born architect and engineer Dr Dante Bini and his architect son Nic Bini are making a rare trip to London from the US. Dante Bini, a pioneer of automated construction systems came to prominence with the invention of his Binishell Dome construction system that used air inflated fabric-formwork to create large span concrete shell structures. This unique construction method was first developed and tested by Bini in the mid 1960's and notably demonstrated in 1967 with the creation of a 20m diameter dome at Columbia University in New York City at the bequest of celebrated engineer and Columbia Professor Mario Salvadori. Thousands of 'Bini' domes have been fabricated all over the world for use as schools, sports facilities, industrial buildings, holiday apartments and dwellings that famously include a domed holiday home in Sardinia for film director Michelangelo Antonioni and his then lover actress Monica Vitti.
In 2013 Bibliotheque McLean will publish an English edition of the Dante Bini monograph 'a cavallo di un soffio d'aria'.
Free to attend no booking required