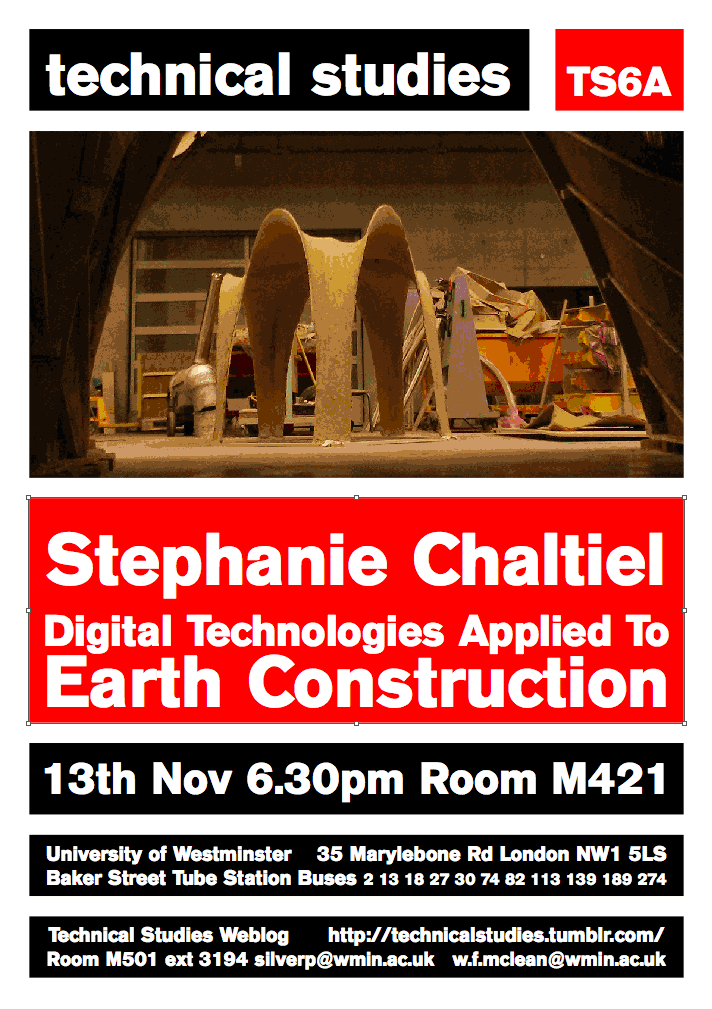 Stephanie Chaltiel
'Synchronized Movements': Digital Technologies Applied To Earth Construction
Thursday 13th November, 6.30pm, Room M421
Faculty of Architecture and the Built Environment
University of Westminster
35 Marylebone Road
London NW1 5LS
Originally from France, Stephanie Chaltiel has over 10 years experience as an architect and 5 years of teaching and teaching research. She worked for Bernard Tschumi in New York (Elliptic City- IFCA-2006), for OMA in Paris  (Monaco Extension on the water- 2008), and for Zaha Hadid in London (Pierres Vives Construction – 2010). She also has valuable experience in countries such as Mexico and French Guyana, applying sustainable materials and techniques for housing solutions. She has been teaching in France for 5 years at the Grenoble High School of Architecture and more recently at SUTD in Singapore. She has also been directing the AA (Architectural Association) Visiting School in Lyon which has investigated and explored the use of digital technologies in conjunction with earth construction.
For Lecture details
Will Mclean / Pete Silver
http://technicalstudies.tumblr.com/