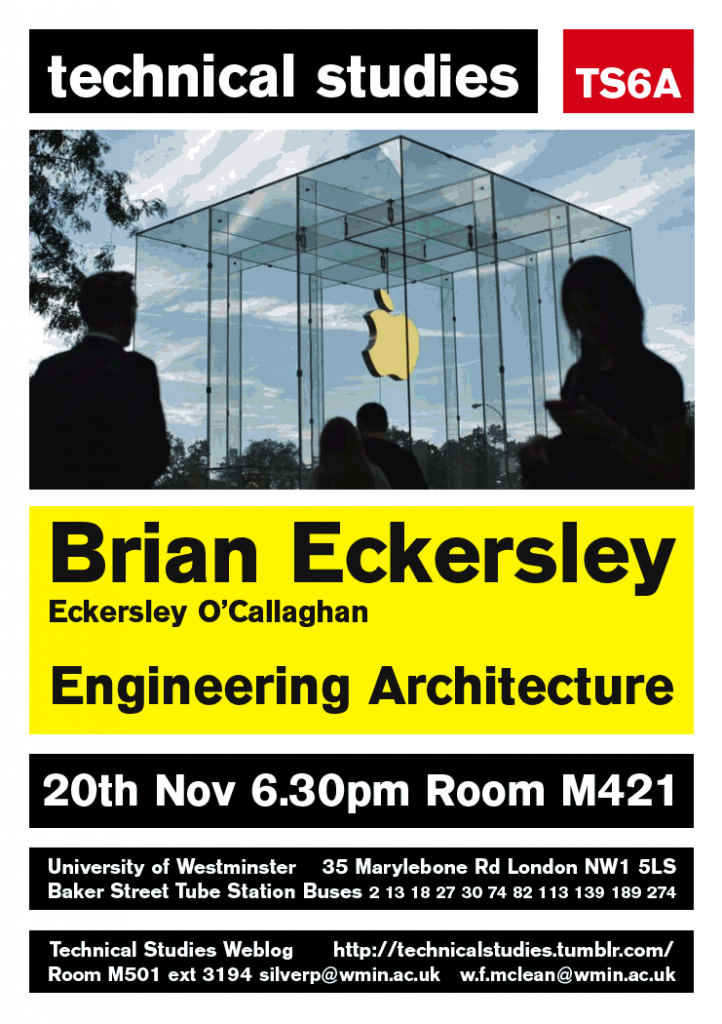 Brian Eckersley – Eckersley O'Callaghan
Engineering Architecture
Thursday 20th November, 6.30pm, Room M421
Faculty of Architecture and the Built Environment
University of Westminster
35 Marylebone Road
London NW1 5LS
Eckersley O'Callaghan was formed in 2004 by Brian Eckersley and James O'Callaghan. Both founding Directors complement their structural engineering experience with a background in architecture, and they have built a team of over 30 strong working with architects such as AHMM, Foster and Partners and Rick Mather Architects.
Eckersley O'Callaghan is an award winning engineering design practice. working with a range of materials, forms and building types across diverse sectors and project scales to deliver imaginative engineering solutions. The practice has developed an international reputation for structural glass designs, and in recent years their work with architects Bohlin Cywinski Jackson on the Apple Stores has been widely celebrated.
http://www.eckersleyocallaghan.com/
For Lecture details
Will McLean / Pete Silver
w.f.mclean@wmin.ac.uk
http://technicalstudies.tumblr.com/