The Department of Architecture and Marylebone Books invite you to the joint book launch of
Air Structures
and
Deployable Structures
published by Laurence King Publishing. 
Please join us at: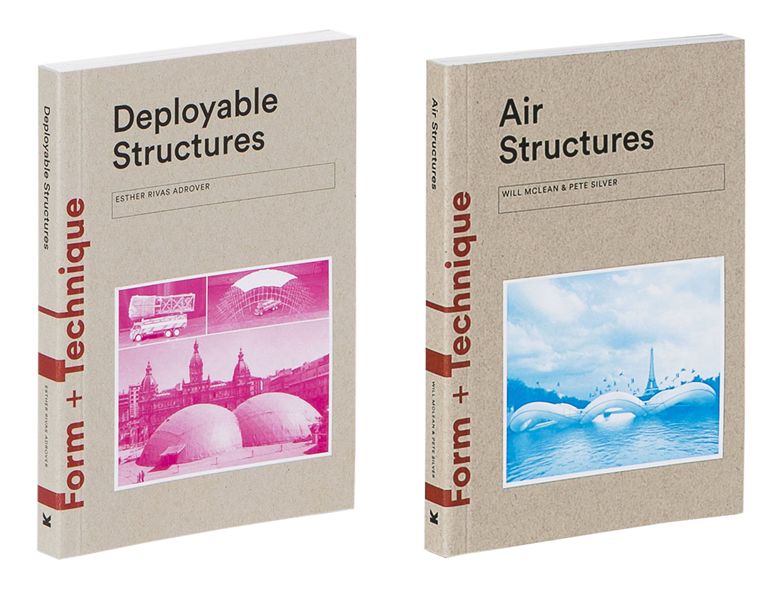 Monday 9th November 18.00, Room M416

University of Westminster
Department of Architecture

35 Marylebone Road

London NW1 5LS

Room: M416

Nearest Station: Baker Street
Both books will be on sale at a specially reduced rate for the launch event
Deployable Structures by Esther Rivas Adrover.
Deployable structures can expand and/or contract due to their geometrical, material and mechanical properties – offering the potential to create truly transforming environments. This book looks at the cutting edge of the subject, examining the different types of deployable structures and numerous design approaches. Filled with photographs, models, drawings and diagrams, Deployable Structures is packed with inspirational ideas for architecture students and practitioners.
Esther Rivas Adrover has experience as an architectural practitioner and educator. After teaching Advanced Descriptive Geometry to architecture students in Spain she studied architecture at Oxford Brookes University where she later taught at degree and postgraduate level.  Her interest in complex geometries led her to work for practices including Zaha Hadid Architects, where she worked on various projects in the UK and around the world. She has also exhibited her own work several times at the Royal Academy of Arts in London.
Air Structures by Will McLean and Pete Silver.
Air can be used in a variety of ways to make lightweight, flexible structures. Filled with photographs, models, drawings and diagrams, this book looks at every facet of the subject, examining air-beam structures, air-cell structures, buoyant structures, inflatable structures and many more. It also looks at the construction methods that use air, such as air-inflated steel and aerated concrete.
Will McLean and Pete Silver teach at the Faculty of Architecture and the Built Environment at the University of Westminster and are the co-authors of
Fabrication: The Designers Guide
(2006),
Introduction to Architectural Technology
(2013), and
Structural Engineering for Architects
(2014). They both trained in the Architectural Association under John Frazer, where Pete later taught. They also established pioneering courses on real-time environmentally-responsive systems at the Bartlett (University College London).