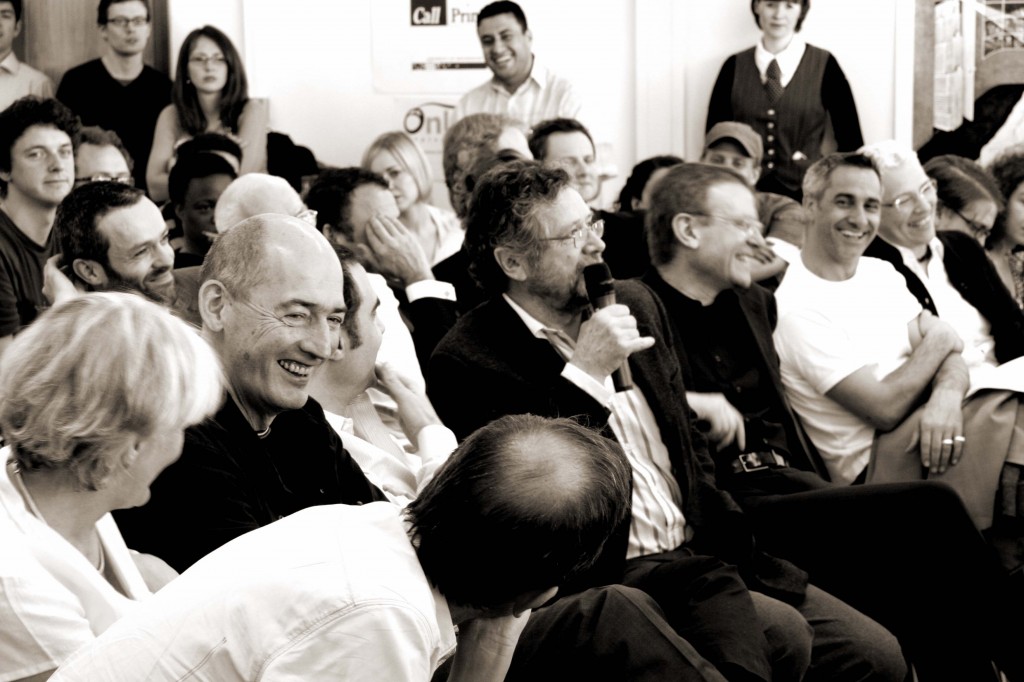 " You actually succeeded in slightly intimidating me."

Rem Koolhaas, Supercrit #5.
EXP, the Research Centre for Experimental Practice in the Faculty of Architecture and the Built Environment at University of Westminster is pleased to announce the launch of a new web site for Supercrits, an inventive series of talks that invited some of the world's greatest architects into the studio to present one of their most famous projects to a student audience and a panel of international critics. They included Cedric Price, Robert Venturi and Denise Scott Brown, Richard Rogers, Bernard Tschumi, Rem Koolhaas, Leon Krier and Michael Wilford.
The new website allows full view of annotated and illustrated video footage of the Supercrits given by Rem Koolhaas on his seminal book Delirious New York; Leon Krier on his controversial Poundbury project and Michael Wilford on James Stirling Michael Wilford's overlooked masterpiece, the Neue Staatsgalerie in Stuttgart.It also gives links to the beautiful Routledge book versions of Supercrits #1-#4, covering Cedric Price's brilliant Potteries ThinkBelt project; Robert Venturi and Denise Scott Brown's iconoclastic book Learning From Las Vegas; Richard Rogers' wonderful Pompidou Centre; and Bernard Tschumi's seminal Parc de la Villette. The books, by Kester Rattenbury and Samantha Hardingham, feature new essays, extensive reading lists and source material and original, often unpublished picture research of the original schemes and the context as well as full transcripts of the events.
The new website is a light-touch version of the books, but aimed at a far wider audience, forming an essential new resource for students, architects and an interested public. It builds on EXP's experience in developing the Archigram Archival Project, which was aimed at both expert, academic and popular web audiences, with more than two million visits from around the world to date.  The Supercrits site is a simpler version of the books, annotating and making available the material itself with relevant notes, illustrations and links, and new essays on the event by Kester Rattenbury.  It was developed by Filip Visnjic and Eduard Prats Molner. Content has been researched, written and edited by Dr Kester Rattenbury, with Clare Hamman, project manager.
The Supercrits series was developed from an idea by Cedric Price, Paul Finch and Samantha Hardingham, and co-run by Kester Rattenbury and Samantha Hardingham. The Architecture Foundation has co-run all events since Supercrit #3; other collaborators include the Canadian Centre for Architecture (Supercrits#1 and #7) Jackson Coles (sponsors of Supercrit #5) and Tate Britain (hosts of Supercrit #7). The original book series was designed by John Morgan Studio, published by Routledge and co-written by Rattenbury and Hardingham
EXP
Research Centre for Experimental Practice
Faculty of Architecture and the Built Environment
University of Westminster
05 December, 2013